Ukraine accuses Russia of fresh troop incursion as fierce fighting rages over Donetsk airport
Comments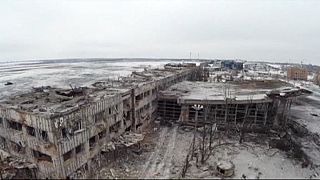 Ukraine says some 700 Russian troops have crossed the border into its territory as fierce fighting continues for control of Donetsk airport.
There are confused and conflicting reports of the situation on the ground with both sides claiming to be in control.
What is clear is that violence is intensifying in eastern Ukraine with up to a dozen of civilians killed this weekend, all attempts to restart peace talks have failed.
The Ukrainian military spokesman, Andriy Lysenko accused the rebels of breaking the Minsk ceasefire deal agreed last September.
"The Russian side cancelled its signature from the joint document detailing the ceasefire schedule. This agreement calls on the Russians to come to the table and guarantee a truce from today," said Lysenko.
Russian military officials are blaming the Ukrainians for the escalation.
Military spokesman, Andrey Kozlov said: "The Ukrainian military group has made an attempt (to recapture the airport) which led to unjustified victims among civilians of Donetsk and Horlivka. It is without doubt a violation of all agreements of the ceasefire in the Minsk memorandum."
Moscow also says Ukraine's President Petro Poroshenko has rejected a peace plan put forward on Sunday by his Russian counterpart Vladimir Putin that requires both sides to withdraw heavy artillery.