Vonn the bomb defies gravity and serious injury to equal the record of World Cup wins
Comments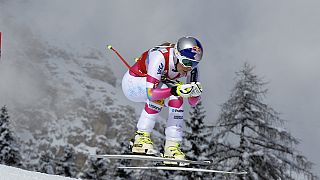 Do up the boots and get on the piste, Vincent Menard is the euronews mountain guide.
Welcome to gravity, our weekly round up from the world of downhill skiing. We have Lindsey Vonn, who's victory at Cortina d'Ampezzo means she equals the record of Annemarie Moser-Pröll with 62 World Cup victories to her name.
Lyndsey Vonn is a phenomenon, after two serious knee injuries the American can still beat the very best and her sensational win at Cortina d'Ampezzo puts her in line to be the greatest World Cup skier of all time.
Watch this space she races in the Super-G on Monday and victory will be a record breaker.
Elisabeth Goergl of Austria was second quickest, with Daniela Merighetti in third place.
Three Swiss in the top four on home snow in Wengen, but victory went to the Austrian Hannes Reichelt . The speedster winning the longest decent of the
winter, on the Lauberhorn.
Beat Feuz came home second followed by his Swiss compatriot Carlo Janka.
Are the Austrians on a Swiss roll?
With Wengen done and dusted the calvalcade heads for Kitzbühel and the iconic downhill piste, The Streif, which inspires fear and fascination according to former Olympic Champion, Frank Piccard.: "Oh Kitzbühel is legendary because of its back story. It is a difficult slope, a slope that has impressed generations of skiers. It is a magical place with a great atmosphere. There are 20,30, 40 thousand people there, It is incredible. There are extremely steep sections, there are sections which are difficult, to master, to grasp, it takes a superhuman effort to master the technique required. There are moments of stress and anxiety not just from the piste, but from the history. And it is that that gets you excited and leaves you in awe of this slope, that's it."
It is February 13, 1937 in Chamonix and Emile Allias is crowned downhill World Champion on the Verte des Houches.
He finished 13 seconds ahead of compatriot Maurice Lafforgue. Two days later he won the slalom
and the combined collecting a never before seen three gold medals . The man from Megève then became the first teacher at the French ski school and coached in Chile and Canada. He invented the piste basher and developed piste patrols to improve mountain security. He was also involved in the development of the Flaine and Courcheval resorts, before dieing at the age of 100 in 2012."
To defy gravity is never easy, even for the very best skiers. The proof is in the pudding take a look at the pictures, It's snow time.