Eggs thrown at Canadian foreign minister on visit to West Bank
Comments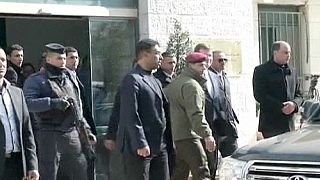 The Canadian foreign minister has been heckled by Palestinian protesters during a visit to the occupied West Bank.
Eggs were also thrown at John Baird, but he was not hit. Some splattered across the roof of his vehicle.
This was a protest against Canada's vote against Palestinians' efforts to become a non-member state at the UN General Assembly.
That bid was successful in 2012.
Baird also recently described Palestinian plans to join the International Criminal Court "concerning and dangerous".
There was high security for Baird's visit, with numerous Palestinian special forces in riot gear deployed.