Ski Jumping: Germany win second straight team event
Comments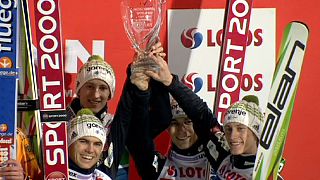 Germany's male ski jumpers won their second consecutive team event on Saturday after flying to victory in Zakopane, Poland.
The quartet of Richard Freitag, Severin Freund, Michael Neumayer and Marinus Kraus earned victory with a combined 1050.6 points.
The Olympic champions also won the first team competition on the home hill of Klingenthal in November.
Second place went to Austria.
The Austrian team had recent Four Hills winner Stefan Kraft in its ranks.
Completing the quartet was Michael Hayboeck, the most successful ski jumper in history Gregor Schlierenzauer and Thomas Diethart.
Despite the abundance of talent the Austrians could only manage second place trailing the Germans by 15 points.
In third place was Slovenia.
Jurij Tepes, Nejc Dezman, Jernej Damjan and Olympic champion Peter Prevc were just over 32 points behind the winners to round out the podium.