Terror suspects arrested in Berlin
Comments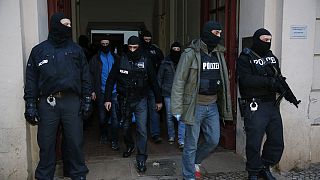 Berlin is the latest European city to see police raids with the arrests of terror suspects. Two Turkish men were detained on Friday morning suspected of having links to a group supporting the militant Islamic State and other radical groups.
One of those arrested is, according to German prosecutors suspected of radicalising an extremist group through Islam 'lessons' and encouraging participation in jihad against 'unbelievers' in the war in Syria.
The statement by the prosecutors added they had no indication that the men had immediate plans to stage an attack. Two hundred and fifty officers raided 11 apartments after months of tracking a group that was said to support ISIL with money and the recruitment of combatants.