Obama urges Congress not to trigger new sanctions against Iran
Comments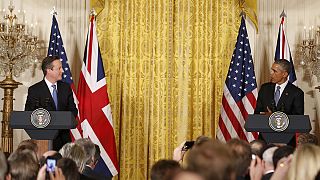 President Barack Obama has urged the US Congress not to trigger new sanctions against Iran over its nuclear programme, saying that such a development could upset diplomatic talks and potentially lead to war.
In a joint news conference at the White House, he was backed by British Prime Minister David Cameron, ending a two day trip to Washington. Cameron said he had personally called US senators about the issue.
Obama said he had told Democratic lawmakers that he would veto a bill calling for new sanctions if it landed on his desk.
"There is no good argument for us to try to undercut, undermine the negotiations until they have played themselves out," Obama told reporters.
"But Congress should be aware that if this diplomatic solution fails, then the risks and likelihood that this ends up being at some point a military confrontation is heightened."
Talks between six world powers and Iran failed to meet a self-imposed deadline for a solution in November. Obama put the chances of an eventual deal at 50/50.
US Secretary of State John Kerry and Iranian Foreign Minister Mohammad Jawad Zarif met in Paris on Friday to try to iron out disagreements.
Tehran rejects Western suspicions that it is seeking to develop a nuclear weapon.