John Kerry visits Paris to show solidarity with terror-hit France
Comments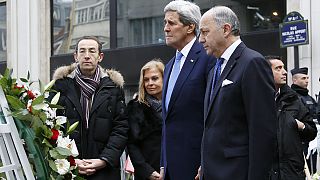 He had said he wanted to give "a big hug" to the people of France.
And in Paris City Hall on Friday, US Secretary of State John Kerry honoured those killed in last week's Islamist terror attacks.
Kerry spoke about the two countries' friendship and told how his mother, who was born in Paris, fled the city when Nazi Germany occupied it.
"No nation knows better than France that freedom has a price," he said at a short ceremony where US singer James Taylor performed his song "You've Got A Friend".
Kerry observed a minute's silence, alongside Paris Mayor Anne Hidalgo, and addressed those gathered, in English and French.
Speaking in the language of his hosts, Kerry said:
"Together, we will persevere and we will triumph. What the extremists, thugs and terrorists don't understand, what they can't understand, is that valour and decency will never yield to intimidation and terror, never."
He laid a wreath at the kosher supermarket where 4 people were killed and visited the scene of the Charlie Hebdo massacre where 12 were slaughtered.
It was catch-up time for the US after it failed to send a top official to Sunday's solidarity march in the French capital.
France's Foreign Minister Laurent Fabius said his US counterpart, who also met President Hollande, had apologised for his absence.