French police arrest 12 in Paris terror attacks probe
Comments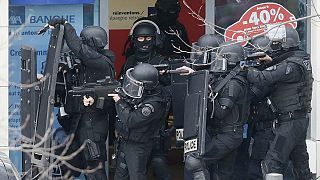 In a series of raids in the Paris region, police have detained 12 people suspected of helping those behind last week's Islamist attacks in the French capital.
They are particularly interested in possible links with Amédy Coulibaly, the gunman who killed four Jewish people at a kosher supermarket.
The eight men and four women are said to be being questioned over any logistical support – like weapons or vehicles – they could have provided him with.
For French Prime Minister Manuel Valls, it demonstrates the government's determination to hunt down anyone involved in the murders.
"We will continue to act, since the threat is at a very high level, and we must do everything to protect the French public, by arresting those who took part in these attacks, who were the accomplices of the three terrorists," he told reporters.
A court in Bulgaria will decide on Tuesday whether to extradite a Frenchman detained at the Turkish border – and suspected of links with the brothers behind the Charlie Hebdo attacks.
Fritz-Joly Joachin denies being part of an Islamist group and is ready to be extradited to prove his innocence, his lawyer Radi Radev told reporters.