Farewell for "Charb" the last of the funerals of Charlie Hebdo attack
Comments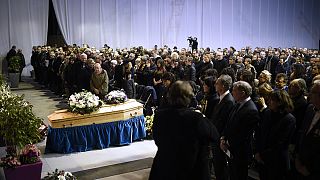 The last of the funerals of the victims of the Charlie Hebdo attack were held on Friday. The anthem, The Internationale was the background to the arrival of the coffin of Stephane Charbonnier.
"Charb" as he was known was the editor-in-chief of the magazine. There were raised fists and defiance at the service.
"The terrorists wanted us to lie down, instead they made us stand up, they wanted us to feel fear, they gave us the French people in the streets defending the values of the Republic," Patrick Pelloux a Charlie Hebdo columnist told the mourners.
"Charb" was taken home to Pontoise where his parents live. The minsters of culture, justice and education listened as a challenge was issued to those present and beyond.
"You say 'I'm Charlie'. Now prove it. Take your pencils, paper, a scan, a computer, express yourself with words, with drawings, with video, anything. And I hope, and you would hope too, Charb, I am sure of it, that thousands of Charlie Hebdo appear from high schools, universities, print works, from the entire world," said Luz one of the magazine's cartoonists.
Lyrics of the folk song "Dirty Old Town" roused the emotional crowd at the end. The farewell was a contrast to the one held in privacy for Phillipe Honore.
Around 200 mourners heard Joan Baez sing a Bob Dylan ballad, "Farewell Angelina," a tribute to a man who had no internet or mobile phone and who was described by those who knew him as discreet, peaceful and committed.
A private funeral was also held in Paris for the proof reader Ourrad Mustapha who was killed in the January 7 attack.