Al-Attiyah and Coma on track for Dakar titles
Comments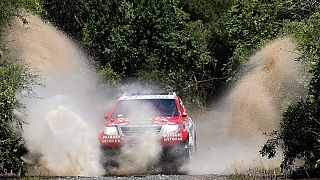 Qatari driver Nasser Al-Alttiyah is one stage away from a second Dakar Rally title following a fourth-placed finish in the penultimate stage 12 that ended in Rosario in Argentina.
He extended his overall lead to 35 minutes and 39 seconds over South African Giniel De Villiers who was 12th on the day.
The Stage was won by Argentine Orlando Terranova who celebrated his fourth straight victory.
Toby Price continued to impress on his Dakar debut.
The Australian KTM rider won his first stage this edition to hold third place in the overall bike standings.
With a third place finish on the day Paulo Goncalves was the best of the title contenders.
But, he did little to threaten leader Marc Coma's chances of overall victory with the Spaniard still just under 18 minutes clear.