Turkish PM compares Netanyahu to Paris killers
Comments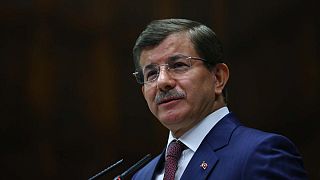 The war of words between Israel and Turkey over last week's deadly attacks in Paris has stepped up.
In the latest exchange, Turkey's Prime Minister Ahmet Davutoglu compares his Israeli counterpart Benjamin Netanyahu to the Islamist militants behind the killings, saying both had committed crimes against humanity.
Speaking ahead of his visit to Brussels today, Davutoglu said the "Israeli government killed children on the beach by bombarding Gaza. It destroyed thousands of homes too," he said. "Israel takes every opportunity to kill Palestinians and dish it out as if it's a normal thing to do."
"Netanyahu is the head of a government that massacred Turkish citizens on an aid ship in international waters," he added.
Since that incident five years ago, relations between Israel and Turkey have declined markedly.
This latest row erupted after Turkey's President suggested Israel did not deserve a role in Sunday's solidarity march in Paris because of the Gaza war.