Mass conscription in Ukraine to counter 'rise in Russian attacks'
Comments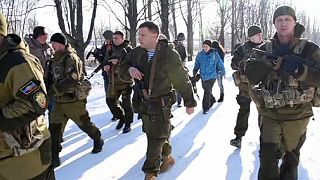 Ukraine's parliament has approved a mass military call-up for the country's conflict in the east amid security warnings that Russian forces backing separatist rebels have sharply increased their activity.
We are seeing the resumption by the enemy of full-scale attacks and advance by the rebels and Russian troops, resulting in a full-scale continental war
Partial conscription will resume and authorities want 100,000 reservists mobilised to strengthen the frontline as violence escalates after a period of relative calm.
Parliament backed a decree by President Poroshenko to replace long-serving troops at the front and bring in veterans from the reserve. It also passed a law increasing the maximum age for compulsory military service from 25 to 27.
Ukraine got rid of obligatory military call-up in 2013 before the removal of pro-Moscow president, Viktor Yanukovych, which sparked the confrontation with Russia.
"We are seeing the resumption by the enemy of full-scale attacks and advance by the rebels and Russian troops, resulting in a full-scale continental war," Oleksandr Turchynov, the head of Ukraine's National Security and Defence Council, told parliament, adding that 8,500 Russian regular forces were now deployed in eastern Ukraine.
Two Ukrainian soldiers were killed and four wounded on Wednesday when Ukrainian positions were fired on 129 times, which Turchynov said was a record for this year so far.
Moscow denies it has any forces in the country. The Russian Foreign Minister Sergei Lavrov responded to the Ukrainian call for mobilisation, saying at a news conference that he had been assured by his Ukrainian counterpart Pavel Klimkin that the issue was "just about rotating units". He warned Kyiv against "trying to return to military scenarios", saying the conflict could only be resolved through dialogue.
Traditionally close to Russia, Serbia which has taken over the presidency of the Organisation for Security and Co-operation in Europe (OSCE) has vowed to work as an "honest broker" for peace in Ukraine.
The security watchdog has hundreds of observers in the east.
At least a dozen civilians died when a passenger bus was caught by an explosion at a checkpoint on Tuesday. Kyiv blames pro-Russian rebels. They deny responsibility.
Seeking answers, the OSCE will cooperate with Kyiv and Moscow – members of the joint working group the JCCC – as well as members of the self-proclaimed "Donetsk People's Republic".
"The Ukrainian representative to the JCCC, the representative of the Russian Federation to the JCCC and the DPR members will form a joint investigation into that incident," said OSCE Deputy Chief Monitor in Ukraine, Alexander Hug.
Victims of the bus attack were honoured on Thursday with a national day of mourning decreed by Ukrainian President Petro Poroshenko.
Also on Thursday Russian-backed separatists said they had captured the shattered remains of Donetsk airport, which has been split between rebels and government forces since last spring. Ukraine denied the claims, but its military acknowledged that two of its soldiers had been killed.
A Ukrainian military official said peace talks were now at a "dead end". Earlier this week a summit aimed at renewing drives to bring lasting peace to the region was suspended.
A resolution passed by the European Parliament on Thursday called for EU sanctions against Russia to stay in place. MEPs condemned Russia's "aggressive and expansionist policy" and urged the EU to come up with a plan to "counter Russian propaganda".
A ceasefire agreed in September has been largely ignored, especially in the area around Donetsk.
More than 4,700 people have been killed in the conflict between Ukrainian government forces and pro-Russian rebels.