Survivors' edition of Charlie Hebdo goes on sale amid a wave of solidarity
Comments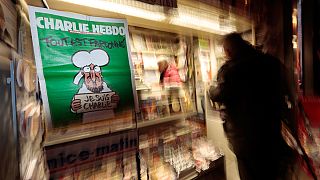 Newspaper sellers are expecting a rush today as the survivors' edition of Charlie Hebdo goes on sale for the first time since the magazine lost nine staff members in a terrorist attack last week.
Its normally small readership has been boosted by a wave of solidarity with scores reserving their copies.
On Tuesday it was revealed by the editorial team that the front cover would feature a drawing of the prophet Mohammad in a defiant gesture, but with the words "all is forgiven".
Charlie Hebdo cartoonist Renald Luzier "Luz" said: "We are, above all, cartoonists who like to draw little characters, just like when we were kids, and by the way, the people, the terrorists, they once were children, they did drawings too, like us, like every child. So at some point they lost their sense of humour, they lost their child soul which allows them to see the world from a distance because that's what Charlie is about, to look at the world with a bit of distance."
Distributers have organised a three million print run – 50 times the magazine's normal circulation.
Support has poured in to help the small magazine survive. Computers have been offered and the French post office has pledged a year's free delivery. Most of this week's cover price is to go to the magazine and victims' families.