A defiant Charlie Hebdo: "It's not the front page the terrorists would've wanted"
Comments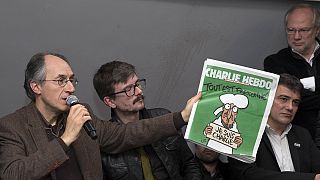 It has been shown by many news organisations, but many others have decided not to print it.
There's just a guy who's crying. It's Mohammed. I'm sorry, we drew him again. But this Mohammed is, above everything else, a man in tears.
The new edition of the satirical weekly Charlie Hebdo features the prophet Mohammed, an act of defiance after the massacre of 12 people by Islamist extremists at the paper's offices in Paris.
Luz, the designer of the cartoon, told reporters: "It's not the front page the world wanted us to do. But it's the front page we wanted. It's not the front page a terrorist would have wanted us to do – there are no terrorists on there.
"There's just a guy who's crying. It's Mohammed. I am sorry, we drew him again. But the Mohammed that we drew is, above everything else, a man in tears."
And the paper is vowing that from now on it is going to be business as usual.
Gérard Biard, editor-in-chief of Charlie Hebdo, said: "There will be a future for us, that's for sure. I don't know yet what it will be like, but the paper will exist. There will be no interruption. This means that in two weeks there will be another Charlie Hebdo in the kiosks."
Three million copies are being printed for Wednesday's worldwide distribution in numerous languages, against the normal run of just 60,000.
The two gunmen claim they were "avenging the prophet" for previous cartoons published by Charlie, a weekly that poked fun at every religion and sector of society.
Most French media have reprinted the new cover of Charlie Hebdo, but overseas it is a different story.
National media in many countries have opted to reprint the cover, but some international broadcasters and papers have decided not to. These include CNN, the BBC, Al Jazeera, Russia Today, SKY and the New York Times.
Euronews has shown the cover online and in reports on air. France's international TV channel, France 24, and Germany's world service television, Deutsche Welle, have also reprinted the cover.
Major newspapers such as Britain's Guardian, Germany's Bild and Die Welt dailies, France's Le Monde, the Washington Post and Spain's El Pais and El Mundo also went ahead and printed the cover.
Some media have used cropped versions of the front page, showing only the top of the image.
Charlie Hebdo Mohammed cover goes global but draws Muslim ire http://t.co/0EKLtzW96C#CharlieHebdopic.twitter.com/LzOkAGW85Z

— Agence France-Presse (@AFP) January 13, 2015
Charlie Hebdo reveals first cover since attack: A "prophet Muhammad" caricature behind the sign, "Je suis Charlie" http://t.co/Wobw5JYyuk

— Washington Post (@washingtonpost) January 13, 2015
#CharlieHebdo bounces back from attack with 3 million copies http://t.co/q2dwMMehmu

— Variety (@Variety) January 13, 2015
This was the last post on the facebook page of Charlie Hebdo, before the massacre last Wednesday.
#CharlieHebdo's first issue since massacre features caricature of Prophet Muhammad on cover http://t.co/3oU5A4QkaPpic.twitter.com/aW3Bp9yJjW

— The Boston Globe (@BostonGlobe) January 13, 2015