Obama pushes for tougher cyber security laws following hack attacks against Sony and US military
Comments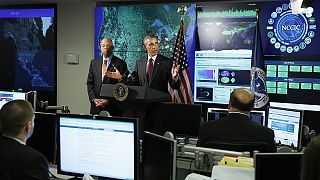 While on a tour of the Department of Homeland Security US President Barack Obama has unveiled proposals to strengthen cyber security laws after recent hacking attacks against Sony Pictures and the federal government itself.
"Just yesterday we saw the hack of a military Twitter account and YouTube channel. No military operations were impacted. So far it appears no classified information was released but the investigation is ongoing and it's a reminder that cyber threats are an urgent and ongoing danger," said the president.
Monday's hack of the US military Twitter account by self proclaimed supporters of Islamist militants is being investigated by the FBI.
Together with the recent attack on Sony Pictures' systems, they amount to a blatant breach of cyber security which has triggered an unprecedented mood of cooperation in the Republican-led Congress where Obama's proposals have been sent.
The president wants new legislation that will improve the way the government and private sector share information about cyber threats, and will update the legal framework needed to go after cyber criminals.