Haiti on shaky political ground as President Martelly forced to dissolve parliament
Comments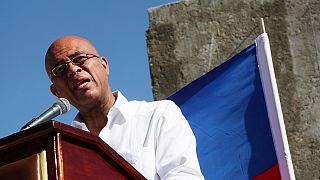 Failed last-ditch negotiations have led to the dissolution of the Haitian parliament.
President Michel Martelly was unable to persuade opposition senators to approve a plan to increase parliamentary terms until a vote can take place.
In December, the president tried to calm his critics by appointing the capital's mayor, Evans Paul, as the new prime minister. Parliament refused to ratify him, although as de facto prime minister, Paul says he has started consultations to form a government.
Neither legislative, nor municipal, elections have been held during Martelly's term in office, meaning the decisions he makes are effectively unchallenged.
Referring to the president, lawyer and opposition figure André Michel said:
"He has not organised credible elections. He's been in power to do it and after three and a half years, he hasn't done it. Today the parliament is dysfunctional and it's the fault of the head of state, who no longer has any reason to be in office."
Haiti is left in a shaky transition period, with Martelly's opponents mounting increasingly violent street protests in the capital, Port-au-Prince.
The president has the backing of the US and the United Nations 'Core Group' of countries assisting Haiti following the 2010 earthquake. On Tuesday (January 14), the UN called on all parties "to organize, as soon as technically feasible, inclusive, fair, transparent and equitable elections in 2015", fearing the Western Hemisphere's poorest country could descend into political chaos.
How many people live on less than $2 a day? In Haiti, @WFP says it's two out of three. http://t.co/P6eggJpHwWpic.twitter.com/KFajKX2na3

— United Nations (@UN) January 14, 2015
No date has been set for legislative or municipal elections, however a presidential vote is scheduled for the end of 2015.