Charlie Hebdo sells out within minutes; more copies scheduled for release
Comments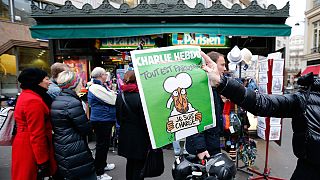 France's first supply of Charlie Hebdo magazine since last week's shootings sold out in just a few hours on Wednesday morning, report AFP.
About 700,000 copies of the satirical weekly were initially produced.
The magazine is sold in 27,000 newspaper kiosks, according to the National Union of Press Distributors (NUPD).
The stores will be restocked with a further 300,000 copies on Wednesday or Thursday, according to the NUPD.
Three million copies were initially planned – to be spread out over the coming week – but due to demand another two million will be produced.
Supply of the magazines will be spread out, 500,000 per day, for the rest of the week, until next week's issue.
"Everybody will get one," said Véronique Faujour, the director of the Messageries Lyonnaises de Presse Charlie Hebdo's distributor.
Social media craze, high prices on Ebay
The hashtag #Jaimoncharlie (I have my Charlie) was number one of Twitter's trending topics on Wednesday morning in France.
Elsewhere on social media, pictures of queues and sold-out signs at newpaper kiosk and stores show the extra-ordinary demand:
New #CharlieHebdo issue sold out across France. Photo Bertrand Guay #AFPpic.twitter.com/xy2IisNbmS

— AFP Photo Department (@AFPphoto) 14 Janvier 2015
Due to the shortage, opportunists have put their own copy of this week's issue on Ebay, along with old and special issues, often for outrageous prices.
Euronews could not independently verify if any of these sales actually went through or if any serious bids were actually made.
Slideshow of Charlie Hebdo copies for sale on Ebay