Tolerance vigil amid anti-Pegida demonstration in Berlin
Comments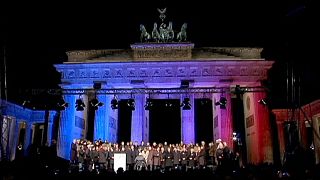 German political and religious leaders gathered outside the French embassy in Berlin on Tuesday night during a march for tolerance.
The crowds also made their way to the iconic Brandenburg Gate as part of a movement against growing anti-Islamisation demonstrations.
There is concern in mainstream political circles about weekly rallies taking place in the eastern city of Dresden.
Another sign of unity at tonight's vigil at Brandenburg Gate. #mahnwachepic.twitter.com/NFnTAmfHMo

— Joanna Slater (@jslaternyc) January 13, 2015
Joachim Gauck, the German President, told the Berlin vigil: "The terror is international, but even more (international) is the alliance of the free and peaceful. The world moves closer, because freedom and human rights are not only French or German or European. They are not only Western – they are universal."
The vigil was organised by Muslim groups, spurred on by the massive marches of unity seen in France over the weekend.
Chancellor Angela Merkel is vowing to crackdown on anyone promoting xenophobia, racism and extremism.
Protest against pegida at the Brandenburg Gate in today's Der Tagesspiegel. http://t.co/zSKBl19e8Epic.twitter.com/8TI2NlDelA

— Rand0m1y (@Rand0m1y) January 6, 2015
Another sign of unity at tonight's vigil at Brandenburg Gate. #mahnwachepic.twitter.com/NFnTAmfHMo

— Joanna Slater (@jslaternyc) January 13, 2015