Dakar Rally: Rodrigues rides to Stage 9 victory as Al-Attiyah closes in on car title
Comments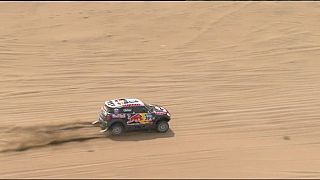 Helder Rodrigues bounced back from a disastrous ride on Monday when he lost over three hours to win stage nine of the Dakar Rally.
Out of the title race, the Portuguese Honda rider produced a nothing-to-lose ride over the 450-km special finishing in Calama in Chile.
The now two-time stage winner this edition finished almost four minutes ahead of runner-up, compatriot and team-mate Paulo Goncalves.
Overall race leader in the bike category and defending champion Marc Coma of Spain was third to limit the damage in the general standings.
Five minutes and 28 seconds now separate Coma and Goncalves in the title race.
Defending car champion Nani Roma won his first stage this edition.
The Spanish Mini driver, who has little chance of adding another title this year, was just under six and a half minutes clear of race leader and 2011 champion Nasser Al-Attiyah.
Although he had to settle for second, Mini teammate Al-Attiyah increased his lead to nearly 24 minutes in the general standings over closest challenger Toyota's Giniel De Villiers of South Africa.