Golden Globes awards overshadowed by stars proclaiming "We are Charlie"
Comments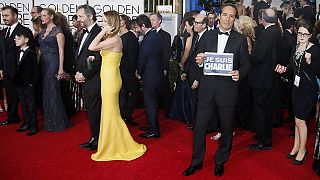 This year's Golden Globes awards ceremony was expected to refer to the big marches in France and the events around the Charlie Hebdo massacre. Helen Mirren and others wore pens on their designer dresses, while others wore "Je suis Charlie" stickers as Hollywood and the US TV industry threw their weight and support behind the French's once-in-a-lifetime demonstration on Sunday.
"Today it was an extraordinary day. There were millions of people that marched not 
only in Paris but all around the world, and there were Christians and Jews and 
Muslims, leaders of countries all over the world, they didn't march in protest, they marched in support of the idea that we will not walk in fear. Je suis Charlie", said George Clooney, picking up a lifetime achievement award.
Best Film Drama was won by "Boyhood", with Richard Linklater picking up the DIrector's award for his 14-year labour of love, and Patricia Arquette won best supporting actress.
While the success of "Boyhood" surprised few, "Grand Budapest Hotel" stunned many by winning the best comedy or musical prize, as it has underwhelmed at the box-office, but grown in stature since its release.
Among other winners Britain's Ruth Wilson won best actress in a drama series for "The Affair", one of two new TV series that shot to the top, along with "Transparent", which also won best comedy actor for Jeffrey Tambor, and a first ever-prize for a streamed TV show.
.