Coma tops riders in Chile after rough day in Dakar
Comments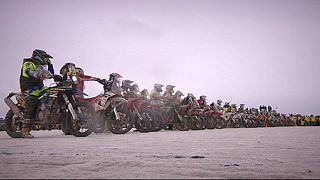 The toughest rally in the world lived up to its reputation as stage eight of the Dakar 2015 decimated the riders on the 808 kilometre course between Uyuni in Bolivia and Iquique in Chile.
Spain's Joan Barreda Bort virtually lost the race when he came undone in the Bolivian sands. The Honda rider, who had been leading overall, had to be towed and lost an hour and a half to fall out of contention.
In the end, Chili's Pablo Quintanilla took the spoils. He brought his KTM home just eleven seconds ahead of Spain's Juan Pedrero Garcia.
The new overall leader is four-time winner Spain's Marc Coma. His KTM is nine minutes ahead of the Portuguese Honda rider Paulo Goncalves and Quintanilla.