Video apparently showing Paris gunman emerges online
Comments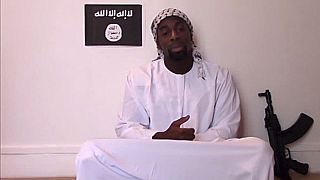 A video has emerged online appearing to show one of the three Paris gunmen pledging his allegiance to the so-called Islamic State group, though police are yet to confirm the information.
In the clip, apparently filmed by Amedy Coulibaly, the suspect in the kosher supermarket siege states that the attacks were justified by France's military interventions overseas.
Coulibaly was killed by police after he planted explosives in the store in a siege which killed four of the hostages.
In a separate siege the brothers suspected of the attack on Charlie Hebdo were also killed and police confirmed a link between the three militants.
The partner of Coulibaly and France's most wanted woman, is believed to be in Syria, after passing through Turkey earlier this month.
Hayat Boumeddiene is described as "armed and dangerous".
Phone records show that she exchanged 500 calls last year with the wife of Cherif Kouachi, one of the two men who murdered 12 people at Charlie Hebdo's offices.