Thousands out on the streets of Lyon in massive show of solidarity
Comments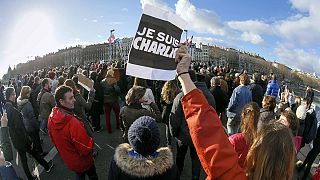 More than a quarter of a million people took to the streets of Lyon, France's third city, to pay tribute to the victims of this week's attacks.
Our correspondent Laurence Alexandrowicz described the atmosphere.
"There are rallies everywhere in France, including here in Lyon," she said. "An enormous crowd, people from different generations, from different social backgrounds, there is a real solidarity movement."
One woman on the march told euronews: "It's been a long while since I've protested but I think I couldn't hold back. It was absolutely essential to be here, to share, to show that we're not alone, it's good to join forces, to show that we're not afraid."
There was condemnation of the terrorists but also recognition that different educative steps must be taken.
"These terrorists are sad, miserable people who've been indoctrinated unfortunately and I think we've failed in our education system, as well as the Republic, to integrate these people so they can adhere to our republican values," commented another protester.
These are sentiments shared by many others; one woman told euronews she experienced similar terrorism years ago in Algeria.
"Deep inside me, I'm angry, so very, very angry. I can't stop crying for Charlie and its fans. My soul is crying, for this country, France, which is burning. I don't want it for France. I faced it in Algeria, and I don't want it to happen in France."
A French woman with Spanish roots compared the attacks to killings carried out during the Spanish civil war.
"In Spain, we had a period when there was no freedom, when people were killed in the name of God, and we still remember it," she said.
While some fear a violent backlash against Muslims in France, one man told euronews he was confident last week's attacks would help bring people together, regardless of their faith and religion.
"We trust our country, and we're not afraid," he said. "No, no, French people are smart enough, we are smart enough for that ! Vive la France, Vive la France!"