Brother of slain Muslim police officer: "Do not confuse Muslims with extremists"
Comments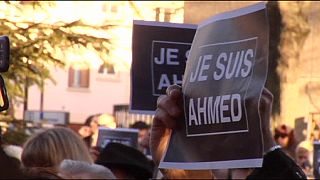 Hundreds have gathered in the hometown of one of the police officers killed in the terrorist attacks in Paris.
Officer Ahmed Merabet, a devout Muslim, was shot in the head by gunmen outside the offices of Charlie Hebdo.
A rally has been held in his honour in the town of Livry-Gargan, northeast of Paris.
There was a moment of silence as friends and family members spoke of the officer's kindness.
Malek Merabet, the brother of Ahmed Merabet, said: "He was French, of Algerian origin, and was a practising Muslim. He was very proud to be called Ahmed Merabet, to represent the French police, to defend the values of the Republic: liberty, equality and fraternity."
He added: "I have a message for all the racists, Islamophobes and antisemitic people. Do not confuse extremists with Muslims. Crazy people are not of one colour or religion.
"Let me say it again: stop lumping everyone together, to start a war, burning mosques or synagogues or attacking people. It won't bring back our dead, and it won't bring any comfort to the families."
Ahmed Merabet was shot in the head as he lay wounded in the street. He attempted to stop the escape of the two brothers who carried out the massacre of 10 people inside the offices of Charlie Hebdo.