Large rally against racism and xenophobia in Dresden in Germany
Comments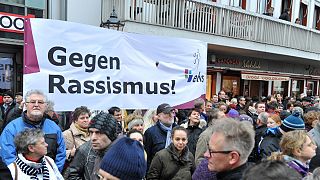 Thousands of people have taken part in a rally against racism and xenophobia in Dresden.
This is the eastern German city where weekly gatherings have been held by a grassroots anti-immigration movement known as PEGIDA.
Saturday's counter-demonstration was organised by the state government and the city of Dresden.
The State Premier of Saxony, Stanislaw Tillich, told the crowd: "Three days ago in Paris 12 people were brutally killed by Islamist fanatics during an attack on the magazine Charlie Hebdo.
"It is defamatory to vilify all Muslims in Europe as enemies of democracy for this isolated terrorist attack, and we will not allow that."
It is estimated that 35,000 people took part in the rally. The German Chancellor Angela Merkel has also condemned the anti-immigration movement that meets on Monday nights.
This anti-racism protester said: "I have seen what the world has seen, and yes, it hurts. However I do not want the grief over the events that took place in Paris to be used by the wrong side."