Residents flee as Boko Haram terrorises Baga in northeast Nigeria
Comments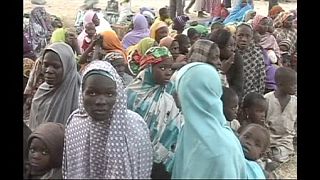 Thousands of Nigerians have been fleeing violence at the hands of the Islamist group Boko Haram – amid reports that hundreds, possibly more, may have died in one town alone.
Eyewitness accounts from officials and local people say militants went on a killing spree in Baga in Nigeria's northeast.
Almost the whole town is said to have been torched, with bodies littering the streets and women and children crying for help.
Many have been queuing to leave the area. Thousands have fled into nearby Chad which has appealed for international aid.
The barbarity has been on the increase, with Boko Haram seizing control of more and more territory in a bid to establish what it calls an Islamic state.
More than 1,000 kilometres away in Lagos the massacres seemed far from President Goodluck Jonathan's mind as he launched his re-election campaign.
He told supporters it was time for young people to re-define the country.
During his time in office the insurgency has got worse and his administration has been dogged by corruption scandals.