French residents caught up in siege lockdown face anxious wait for news
Comments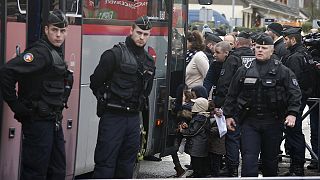 It is a terrifying time for the residents around the village of Dammartin-en Goele, with the whole area placed under lockdown. A printing firm in a local business park is where the two brothers suspected of the massacre at the Charlie Hebdo magazine on Wednesday are holed up. They are reported to have at least one hostage.
Euronews spoke to the deputy mayor of a nearby village, Othis. Thierry Chevalier knows the people caught up in the standoff at the small printing firm, which many locals use.
"It's a small family owned company," he said. "I personally know the boss, who sometimes works with the town hall and it's heartbreaking that they are the hostages. I hope everything will be OK for them and that they will be freed in the best conditions possible."
It is also an anxious time for parents, whose children were just arriving for morning classes when the police operation began around the business park.
Chevalier said: "We sealed off the high school, the college, the children are inside, they're safe, and now we will try to evacuate them by bus in the coming hours to the city centre where their parents can pick them up. Parents tried to come this morning, we asked them to leave so the children could be looked after safely."
One man told euronews: "I have children, and watching the TV this morning I heard there was a siege in Dammartin, and so I decided not to send them to school for safety reasons."
People have been warned to stay indoors and keep their lights off. They have also been told to stay away from windows.
One of our correspondent at the scene, Olaf Bruns, says apart from the police, few people are out on the streets, with tensions high and everybody anxiously awaiting news.
​