France's President Hollande calls for 'vigilance and unity' in the face of terrorism
Comments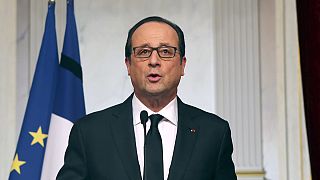 President Francois Hollande has called for "vigilance and unity" from the French people in the face of terrorism.
These fanatics have nothing do with the Muslim religion
In a speech on TV hours after the death of two Muslim brothers suspected of a bloody attack on the offices of French satirical magazine Charlie Hebdo, he called for France to mobilise and show solidarity with the victims of the attacks.
As he congratulated the police for their courage, bravery and efficiency, Hollande said the killers had been put in a place where they were not longer able to do harm
He said the country is proud of the forces of law and order: "They did this to save hostages' lives and to neutralise the terrorists, the killers."
He warned the threat is not over and called for vigilance even as the French government increase efforts to protect public places.
Hollande insisted that unity was the French people's "best weapon and greatest strength".
He also spoke out against any racism and anti-semitism, condemning what he called "an appalling anti-Semitic act" at the seige at Porte de Vincennes in Paris where more than 20 people were taken hostage in a kosher supermarket by a gunman linked to the suspected Charlie Hebdo attackers.
Hollande stressed that: "These fanatics have nothing do with the Muslim religion" adding "We must mobilise with solidary, we will not give in to fear and we are capable of defending ourselves against threats."
He concluded by thanking all the countries and leaders around the world that had supported France, saying that many of them will take to the streets for a mass demonstration in Paris on Sunday and he called on all French men and women "to come out on Sunday to demonstrate the principles which we hold dear".