Charlie Hebdo -- those who died
Comments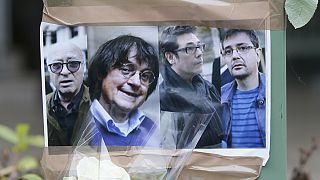 Twelve people were shot and killed in the attack on the Charlie Hebdo satirical newspaper on Wednesday.
Eight were staff members, two were police officers, one was a visitor and a another a cleaner.
Here is a brief word about each of them.
Maintenance man Frédéric Boisseau, 49, a father of two, was in the reception area, where he was the first to fall.
Franck Brinsolaro, 48, a married father of two children, was a police officer assigned to protect Charlie Hebdo editor Stephane Charbonnier.
Cartoonist Jean Cabut, pen-name Cabu, used to draw for another French satirical magazine, 'Hara Kiri'.
He said: "Each religion is an ideology. We can criticise all ideologies. I don't see why we can't. So we keep doing it."
Cabu, 67, was true to his equal opportunity principle of critical observation, for instance caricaturing an average French brother-in-law as racist, sexist and vulgar — one of his most popular characters, Mon Beauf.
Elsa Cayat, 56, contributed to the newspaper as a psychiatrist and psychoanalyst. Her work appeared every second week, under the heading 'Charlie Divan' or 'Charlie on the couch'.
Editor Stephane Charbonnier said he could never give up the freedom of speech: "If you start saying, 'yes, I'm scared,' it's over; you stop publishing, stop debating, stop the presses, stop freedom of the press."
The 47-year-old had no wife or children. A French Communist Party supporter, he had a section in the paper entitled 'Charb n'aime pas les gens' (Charb does not like people). When it was firebombed in 2011, he was one of three on staff to get police protection.
Philippe Honoré, cartoonist, 73, did most of his work in Charlie Hebdo and the publications Lire and Les Inrockuptibles.
Economist Bernard Maris, 68, sometime alternative globalisation advocate, felt the left in France is weak; he mixed with the Greens and was on the Bank of France governing board.
Ahmed Merabet was a local police officer, 42. He was wounded by the first gunfire outside the building and was then shot at point-blank range.
Mustapha Ourrad, of Algerian origin, 60, worked as a copy editor.
Michel Renaud, 69, in the travel industry and local political communication, was visiting Charlie Hebdo that day. A trained journalist who began in radio, he co-founded Rendez-vous du Carnet de Voyage, a biennial expo.
Cartoonist Bernard Verlhac, also known as 'Tignous', 57, a father of four, contributed to social and political commentary in the publications Marianne and Fluide Glacial as well, and illustrated for role playing games.
Cartoonist Georges Wolinski, 79, often focused on women, and drew for many other publications — one of France's most prolific illustrators. "Humour must be free to address all subjects. We must not shrink from anything but being nasty. We're fierce but we're not vicious."