Africa Eco Race: Sabatier clinches stage 9, Serradori forced to withdraw
Comments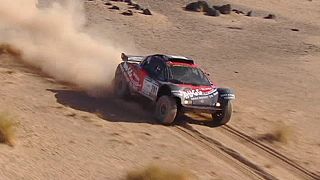 Overnight leader Mathieu Serradori of France has been forced to withdraw from this year's Africa Eco Race after suffering a technical problem in the final stretch of the 9th stage, a gruelling 390km trek from Azougui to Akjout.
His compatriot Jean Antoine Sabatier took advantage of the situation and crossed the finish line in just over four hours, enough to take the lead in the overall standings with nearest rival Anton Shibalov now 50 minutes and 52 seconds adrift.
In the bike category, Norway's Pal anders Ullevalseter kept his composure to edge out team-mate Ingo Waldschmidt.
The KTM rider completed the course in a winning time of 4 hours, 31 minutes and 25 seconds and this result sees him extend his lead in the overall standings. He is now 2 hours, 32 minutes and 8 seconds ahead of nearest rival Robert Theuretzbacher while Gilles Vanderweyen is currently lying in third place.