Theuretzbacher wins stage 8 of the Africa Eco Race.
Comments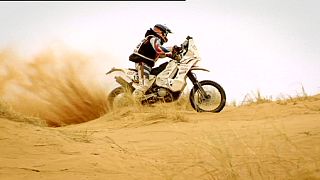 Austria's Robert Theuretzbacher produced a stunning performance to clinch stage 8 of the Africa Eco Race in Azougui on Wednesday.
Four days after claiming his maiden stage win, the KTM rider proved too strong for his opponents yet again and held his nerve throughout the 399km trek to cross the finish line ahead of Pal Anders Ullevalseter.
The Nowegian came home 1 minute and 49 seconds behind and still holds a comfortable lead in the overall standings going into stage 9.
France's Jean Antoine Sabatier led the cars home across the arid terrain with fellow countryman Mathieu Serradori having to settle for second place ahead of Anton Grigorov.
Russia's Anton Shibalov endured a disappointing day. The Kamaz driver is now third in the overall standings after finishing 24 minutes and 11 seconds adrift.
Sergey Kuprianov and Yuriy Sazonov are currently fourth and fifth respectively.