Airbus tail fin found as weather eases in AirAsia salvage
Comments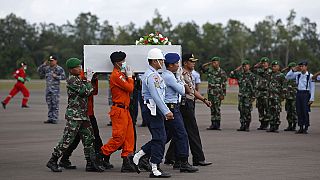 Operations are underway in the waters off Indonesia to retrieve the tail assembly of the AirAsia Airbus that went down on December 28th.
With an easing of weather conditions confirmation the tail fin had been found came early on Wednesday. Divers can now seek out seven other large sections that have been found on sonar.
The tail should contain the plane's flight recorders, silent since the crash that claimed the lives of all 162 people on board.
Three more bodies have been discovered, bringing the confirmed dead to 40.
"We have found the tail that was our main target today. It's position was confirmed
in our second priority sector, the search for other pieces and the main body continues" said the Chief of Indonesia's National Search and Rescue Agency Fransiskus Bambang Soelistyo.
As the latest bodies went for identification
a shake-up at the top continues. Some of the airport and air traffic control officials
who allowed the flight to take off have been reassigned and Indonesia is tightening rules on pre-flight procedures.