Ullevalseter continues to dominate Africa Eco Race
Comments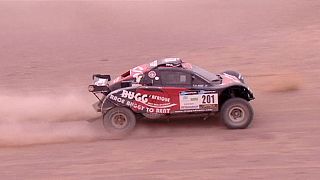 Pal anders Ullevalseter of Norway won stage seven of the Africa Eco Race on Tuesday for his fifth win so far.
The day's ride was the first big trek in Mauritania, where the competitors had to tackle the demanding dunes.
And to top it off it was the longest stage to date at 433 kilometres between Chami to Azougui.
Austrian Robert Theiretzbacher crossed over in second to keep the pressure on Ullevalseter in the overall bike standings with five stages remaining.
Ingo Waldschmidt of Namibia was third on the day.
Mathieu Serradori of France steered his predator to top honours in the car/truck category ahead of compatriot Jean Antoine Sabatier.
The Russian team led by Anton Shibalov rounded off the stage seven podium in third.
Shibalov's lead at the top of the overall car/truck standings is now down to a slender 58 seconds from Serradori.