Royal challenge for FIFA presidency
Comments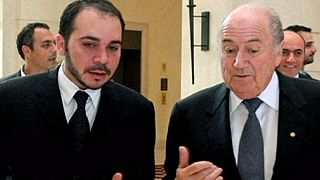 Sepp Blatter faces a royal challenge for the leadership of World football's governing body.
Jordanian royal Prince Ali Bin Al Hussein has decided to throw his hat into the ring and officially stand as a candidate for the FIFA presidency.
Prince Ali is a FIFA-vice president and also head of the West Asian Football Federation.
The 39-year-old said he had been encouraged to run for football's top job by colleagues, disillusioned by the running of the scandal-hit body.
Prince Ali is a close ally of UEFA President Michel Platini, who has been an outspoken critic of Blatter and has been widely tipped as a future FIFA president.
Former French diplomat Jerome Champagne is the only other challenger so far.
Presidential hopefuls have to declare their interest before the 29 January deadline.
The elections take place in Zurich on 29 May when 78-year-old Blatter will be seeking a fifth term.