Machu Picchu Peru's Inca citadel threatened by climate change
Comments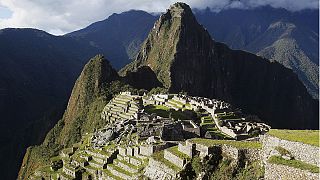 Conservationists are growing increasingly concerned about the damaging effects of climate change on Machu Picchu in Peru.
The site is an Inca estate built for Inca Emperor Pacacuti around 1450.
In recent times the weather pattens in the area have lurched from drought to heavy rains threatening the unique citadel.
Marcos Paster is a protected areas advisor for the Peruvian government: "Machu Picchu normally gets about two metres of rain in the rainy season, we're talking about precipitation of two metres which is already a lot, try to imagine two meters of water, imagine if this is doubled or tripled? Everything would get soaked and everything would get destroyed."
The area is a popular tourist attraction and authorities do not want a repeat of the fatal floods of 2010.
Heavy rains triggered mudslides, which swept away infrastructure.
The Peruvian military had to evacuate 4,000 people, five were killed in the torrent.