France: mayor's refusal to give Roma baby burial plot sparks outrage
Comments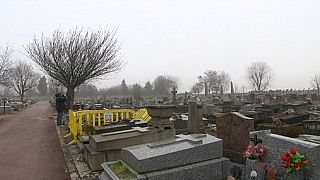 The decision by the mayor of Champlan, south of Paris to deny a Roma baby a burial plot has sparked outrage amongst Roma groups and local residents.
The girl, who lived in a Roma camp, died on December 26.
The Mayor, Christian Leclerc, reportedly said "priority is given to those who pay local taxes."
The mayor denies any such decision was taken yet local anger remains palpable:
"Well this is just unspeakable, have we reached the point where a dead baby is refused the right of recognition. I think it is horrible," said one resident.
Demonstrators vandalised the local town hall as the fury mounted.
The mayor of nearby Wissous, Richard Trinquier, permitted the girl, Maria Francesca, to be laid to rest.
He said "everyone has a right to a decent burial."
France has adopted a severe attitude towards Roma migrants, demolishing camps and deporting thousands every year.
Close to 20,000 Roma live in France in makeshift camps, with few or no amenities.