New York police snub mayor at funeral of slain officer Wenjian Liu
Comments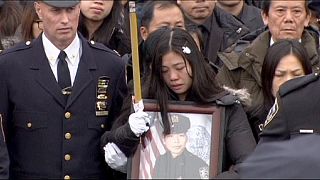 A sea of blue uniforms filled the streets of New York in honour of Wenjian Liu, the second of two police officers murdered last month.
As with the funeral of Rafael Ramos last week, the officers turned their backs on the mayor, whom they believe contributed to the anti-police climate which led to the deaths.
Bill de Blasio used his eulogy to appeal for reconciliation.
"Let us rededicate ourselves to those great New York traditions of mutual understanding and living in harmony."
Liu and his partner were ambushed by an attacker who said he wanted to avenge the deaths of two unarmed black men this summer at the hands of white officers.
The funeral is believed to be the first for a Chinese American policeman killed in the line of duty.
A newly-wed turned widow just two months after their marriage, Pei Xia Chen said she had lost her soul mate.