Mass brawl between 200 migrants in Calais
Comments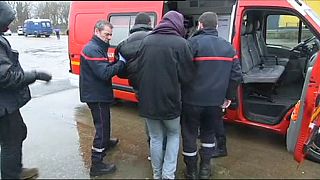 A tense calm has returned to the migrant community in the French port of Calais after a brawl involving some 200 people seeking to cross the Channel to Britain.
Riot police were needed to break up Friday night's fighting, said to be between Afghan and African migrants.
Seven people were injured.
Local aid workers providing meals for the migrants said tensions had been high since New Year's Eve because no lorries had headed to England that night.
It is not the first time that different migrant communities have clashed at Calais which has seen a rise in the numbers gathered there, with the UK in their sights.
Some 2,300 migrants, many of them Sudanese nationals, Eritreans and Syrians, live under canvas there, waiting for an opportunity to clandestinely enter Great Britain.