Fernando Torres returns 'home' to Atletico Madrid
Comments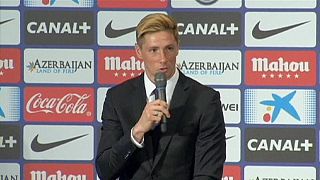 Fernando Torres was unveiled at Atletico Madrid where he will return on Monday having agreed a loan until the end of next season from his current club AC Milan.
The striker who has won World Cup and Champions League winners medals has high ambitions for his second spell at his boyhood club.
"I lifted the trophies which I I was hoping to win but I was missing something – to win championships here at Atletico representing the values of this club. I have many things left to win and I am going to try and do it here. But if I can't the effort will be worthwhile," he told reporters.
Over 40,000 fans packed into the Vicente Calderon stadium chanting Torres name.
He last pulled on the shirt of the La Liga champions seven years ago and at the time was seen as one of the world's top strikers.
He then joined Liverpool before a move to Chelsea for a British record fee of around 55 million euros where he endured a miserable time.
He and the fans are hoping his return home will spark a revival of his goal scoring prowess.