Eight crew feared dead as cargo ship sinks off Scotland
Comments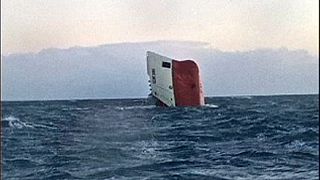 The search for the eight crew missing after a cargo ship sank off the coast of Scotland has been suspended.
The lifeboat charity RNLI have recalled their boats for the day after an extensive operation to find the seven Poles and one Filipino who were aboard the Cemfjord.
"They covered around 200 square miles around the Pentland Firth and surrounding area looking for any signs of the missing crew or life raft or any wreckage coming from the boat …Obviously one problem at the moment is that it's very, very cold so anybody who was in the water would start feeling the effects of that cold very quickly," Alison Levett from the RNLI told euronews.
RNLI boats are awaiting orders from the Shetland Coastguard to resume any search operations on Monday. The families of the missing crew have been informed that the search has been suspended for the night.
The vessel's upturned hull was found by a passing ferry on Saturday. No distress call had been received.
The Cypriot-registered Cemfjord was spotted some 25 kilometres from Wick. It had been carrying 2,000 tonnes of cement from Denmark to Runcorn near Liverpool.
An inflatable boat found by the search team was recovered in Orkney, and is believed to be from the Cemfjord.
An inflatable boat recovered by a search team on shore in Orkney. Coastguard 'do believe' it came from the Cemfjord. pic.twitter.com/edu4MeGaRv

— Rebecca Curran (@STVRCurran) January 4, 2015
The cargo ship was built in 1984; its owners say it had completed successful inspections last month.