Greece: Police rearrest fugitive Marxist extremist Christodoulos Xiros
Comments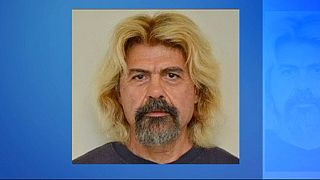 Greek police have released pictures of newly-recaptured fugitive Christodoulos Xiros, 56, showing the dramatic change in appearance by the left-wing extremist – a transformation that failed to prevent his rearrest.
The formerly dark-haired member of the Greek Marxist guerrilla group November 17, seized by security forces on Saturday in a coastal town outside Athens, now has shoulder-length blond locks and a beard.
Serving multiple life sentences for his role in the now defunct militant group which has killed Greek, US and British diplomats, he had absconded while on leave from jail 12 months ago.
Authorities say he was armed when rearrested.
"He had altered his features. He had long hair, a beard, he was wearing glasses and carrying a gun," Hellenic Police Chief Dimitris Tsaknakis told reporters, adding that Xiros had erased the identifying features on the weapon.
"He had 13 bullets in the magazine and one in the chamber. He didn't resist arrest."
Despite a one million euro reward for his capture, Xiros made a video after his escape, vowing armed action to avenge the pain of austerity cuts suffered by Greeks under international bailout programmes.
As in other European countries, including Germany and Italy, a number of violent leftist groups were active in Greece from the 1970s and 1980s and authorities have been concerned about the prospect of a resurgence during the economic crisis.
Our correspondent Fay Doulgkeri says Xiros was riding a bike when arrested, after a three month long surveillance operation by the counter-terrorism unit whose officers are now questioning him.