From Abu Dhabi to China in the Volvo Ocean Race
Comments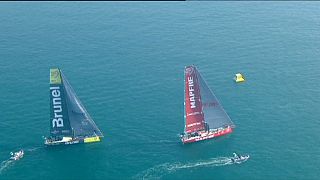 Competitors set sail on Saturday from Abu Dhabi for what is arguably the toughest stage in the Volvo Ocean race.
I'm pretty happy dealing with big waves and strong winds, but the complexity of dealing with a narrow channel, and a very large amount of shipping is what causes the problems.
Ahead lies 4,670 nautical miles to China including passage through the hazardous Malacca Straits which divide the Indonesian island of Sumatra and Malaysia.
The fleet has been reduced to six after one boat, Team Vestas Wind from Denmark grounded on a reef in the Indian Ocean in the previous leg from Cape Town to the United Arab Emirates.
The 12th edition of the 41 year-old-race, seen as offshore sailing's toughest challenge is delicately poised after the first two stages.
Three boats share the lead. Abu Dhabi Ocean Racing Team and Team Brunel took the first and second legs and China's Dongfeng Race Team joined them at the top thanks to two runners-up spots.