Swedish city's outpouring of love for Muslims after mosque attacks
Comments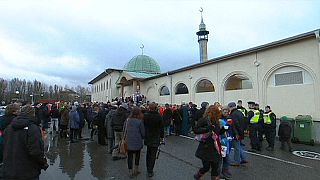 Residents of Uppsala, Sweden's fourth-largest city, have gathered to show their support for the local Muslim community after a local mosque was attacked by a petrol bomb.
The rally follows attacks on mosques throughout Sweden. According to the anti-racism magazine Expo, there were 13 such attacks during 2014.
Hundreds of locals have countered the hate with a show of love and peace, sticking messages of support on heart-shaped pieces of paper and sticking them to the mosque under a banner reading: "Don't touch my mosque."
Sweden's Minister for Culture and Democracy Mrs Alice Bah Kuhnke addressed the rally.
"We have invited representatives from the civil Muslim society. Together we will work out a strategy. It will be about shedding light across the country. A strategy Sweden unfortunately hasn't had. But now it's the time," she said.
Protests across Sweden in solidarity with Muslims http://t.co/b2B1e2UZcs#bränninteupp2015#rörinteminmoské

— Radio Sweden (@radiosweden) January 2, 2015
A suspected arson attack at one mosque in the central town of Eskilstuna injured at least five people while a second mosque in the same town was vandalised.
Police said the two attacks in Eskilstuna took place within hours of each other on Christmas Day and early Boxing Day.
Local media also reported a further attack on a mosque in Eslov.
The show of solidarity in Uppsala has had a positive effect on the city's Muslim community.
"I am very happy and grateful to all who have been here and have participated. It pleases me a lot. It pleases me and my children when they came here and they just wanted to read all the slips of papers at the doors," said Taxi Driver Aladdin Abu.