Stevie G the leaving of Liverpool
Comments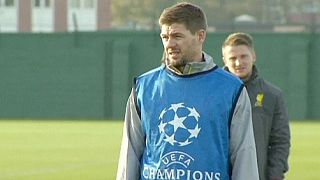 Steven Gerrard is to leave Liverpool Football Club at the end of the current season.
The 34-year-old is out of contract in the summer and has decided not to sign a new deal.
Gerrard says he will continue to play, more than likely for LA Galaxy in the United States.
Stevie G says he could not "contemplate lining up against Liverpool."
Gerrard joined the club at the age of nine and made his first-team debut in November 1998.
In 2005 he led the Anfield side to Champions League victory after beating AC Milan in a dramatic final in Istanbul.
As well as having an illustrious club career Gerrard played 114 times for England.
The player wants to "experience something different" in his career and life.
He will be greatly missed on the red side of Stanley Park.