Search for AirAsia black boxes stepped up as more bodies recovered
Comments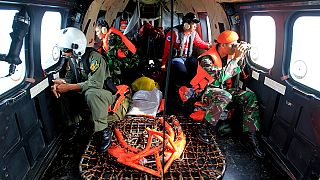 International experts using hi-tech detection gear have joined teams hunting for wreckage of the AirAsia passenger jet which crashed on Sunday with 162 on board.
More than twenty bodies have been recovered, and so far no survivors have been found.
Flight QZ8501 was en route from Surabaya to Singapore when it fell from the sky. The search for the wreckage of the Airbus 320-200 is centred in the northern Java sea off Borneo island and has so far been hampered by bad weather.
"The task to find the flight recorder or the black box of the aircraft will be carried out by National Transportation Safety Committee. We are also searching
for parts of the plane," explained the head of Indonesia's search and rescue agency, Bambang Soelistyo.
Two ships carrying underwater listening devices left the southern Borneo port of Pangkalan on Friday. Experts from France's BEA accident investigation agency, which attends all Airbus crashes, were on board one of the vessels.
The cause of the crash remains a mystery. One theory under investigation is that the plane stalled as it climbed steeply to avoid a storm.
As the sombre search continues, recovered bodies are being flown from Borneo to Surabaya where families anxiously await the result of DNA tests to identify their loved ones.
The funeral of the only victim to be identified so far, AirAsia flight attendant Hayati Lutfia Hamid took place on Thursday.