Palestinians present their credentials to join ICC and host of international bodies
Comments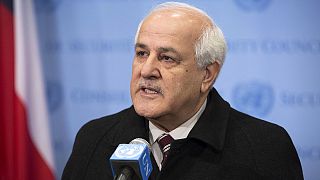 In 60 days time, Palestinian President Mahmoud Abbas may be able to call on the UN's International Criminal Court to get justice for his people in cases where he currently feels they receive little, or none.
Handing over completed documentation for Palestinian adhesion to over a dozen international treaties and the ICC is the penultimate step before assuming some of the trappings of a fully-fledged state.
"This is a very significant step which we are going through to seek justice through a legal option. It is a peaceful option. It is a civilized option. It is an option that we are seeking in order to get justice for all the victims that have been killed by Israel, the occupying power," said the Palestinians' UN observer Riyadh Mansour.
The US State Department has already commented the move would likely have implications for the hundreds of millions of euros in Palestinian aid it approves annually.
The Palestinians' first act has been to formally demand that the ICC look retroactively into allegations of Israeli war crimes recently committed in Gaza.