Number of rapes reported increased by one third in Delhi
Comments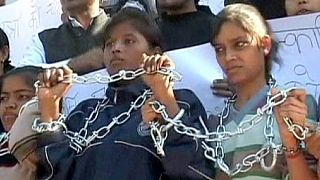 New figures released by police show the number of rapes reported has increased by nearly a third in Delhi, two years on from the fatal gang rape of a student in the Indian capital..
Police commissioner Bhim Sain Bassi, announced that 2,069 rapes had been recorded in 2014, up from 1,571 the previous year.
Though the figures highlight the extent of sexual violence against women, they also mark a shift in women coming forward to report the crimes.
Though the government is making steps towards curbing violence against women, a survey by the Hindustan Times newspaper showed that 91 per cent of women felt the capital had not become any safer since 2012.
Allegations that an Uber taxi driver raped a female passenger last month have highlighted the lack of safety for women travelling in the city.
The release of the figures coincided with the second court appearance of the Uber taxi driver.