Nice one Pal as Ullevalseter makes it four out of four in the Africa Eco Race
Comments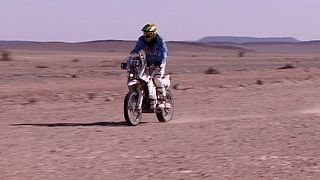 Stage 4 of the Africa Eco Race the 379 km from Assa to As Sakan in Morocco.
A route that saw the racers speed through valleys where the terrain becomes very sandy with gusting winds.
Once the difficulties have been negotiated its a cool 30 km of road down to the finish.
And for the fourth time in as many stages the Norwegian Pal Anders
Ullevalseter finished ahead of the field to win stage 4 and remain at the top of the standings on the motorbikes.
In the cars the Czech driver Miroslav Zapletal crossed the line first winning the stage and topping the leaderboard.
Russian truck driver Anton Shibalov claimed the stage and tops the truck table.
Stage 5 leaves As Sakn and travels to Dakhla the final stage of the Moroccan leg of the Africa Eco Race.