Burned-out Norman Atlantic ferry waits to moor at Italian port Brindisi
Comments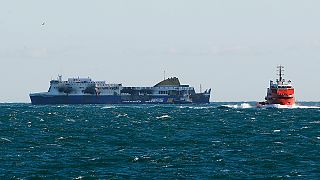 The Norman Atlantic car ferry that caught fire off the coast of Greece on Sunday has been taken to the Italian port of Brindisi.
Investigators will look into what caused the blaze that killed at least 11 people.
Greek and Italian rescuers battled strong winds for 36 hours to evacuate 477 passengers and crew from the ship.
Most were winched into helicopters from the upper deck as the fire raged below.
The fire broke out on one of the ferry's lower levels leaving the ship drifting without power in stormy seas.
Many survivors have criticised the ferry's crew for mishandling the emergency operation and not sounding the fire alarm.
impegnati anche aereo Manta 10-03 e motovedette CP 310 e CP 263. Coordina i soccorsi la Centrale operativa di Roma pic.twitter.com/ATaCBU2Zmt

— Guardia Costiera (@guardiacostiera) December 28, 2014