Afghan soldiers arrested after rockets kill wedding guests
Comments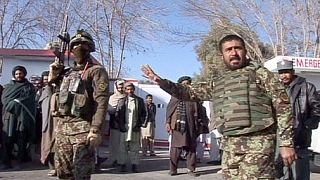 Four Afghan soldiers have been arrested after army mortar rounds hit a wedding party – reportedly killing more than 20 civilians and wounding nearly 50.
The bride's brother said there were hundreds of guests at the ceremony in Lashkar Gah when suddenly shells started landing, and within minutes there was a bloodbath.
According to an army commander in Helmand province, artillery was fired at a village from three directions and it's not known whether it was deliberate.
The authorities said the military was responding to a Taliban attack on a checkpoint. Other witnesses claimed the shelling happened after weapons were fired in the air to celebrate the wedding.
Afghanistan's President Ashraf Ghani described it as a "tragic accident" but congratulated the army for taking over security as NATO troops left the country.
Last year more than 3,000 civilians were killed in ground battles between Afghan forces and the Taliban.